3M™ Speedglas™ Heavy Duty Welding Helmet G5-01
Imagine a better way for you to control how you see and feel when welding. 3M™ Speedglas™ Heavy-Duty Welding Helmet G5-01 is created to be adaptable to an individual's needs and situation.
Based on extensive input from welders doing heavy-duty, high-amperage welding and grinding, it's a auto-darkening helmet designed to be as versatile as you are.
More versatile & comfortable than ever!
The new 3M Speedglas Heavy-Duty Welding Helmet G5-01 has more adjustable features than ever: from the colour as seen through the welding filter to the direction of the airflow and the level of coverage.
Natural Colour Technology
There are two options of 3M™ Speedglas™ Auto- Darkening Filter Series G5-01 – both offering the popular 3M™ Speedglas™ Natural Colour Technology with great clarity before, during and after welding.
Both G5-01 filters are also designed to minimise eye strain when switching from dark state to light state, by using an intermediate shade (5 or 7 depending on filter model). To provide even better view and control of your weld puddle the 3M™ Speedglas™ Variable Colour Technology lets you choose between natural, cool or warm tones for your dark state. You determine which colour tone provides the best viewing contrast for your welds, and the most comfort for your eyes.
Adjustable air flow
With the helmet's new duct system, users can direct the airflow to either their face or visor, as well as the amount of air coming from the top outlet vs. the two side outlets. With greater control over personalised settings, users can balance the airflow's cooling effect while minimising flows that might dry out their nose or eyes. All airflow adjustments can be made while you're wearing the helmet – and continuously maintaining your eye, face and respiratory protection.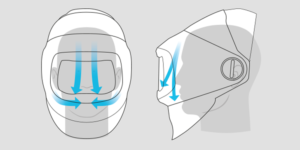 Comfortable and protective
This flip-up functionality allows you to seamlessly switch between welding and grinding tasks while maintaining powered air respiratory protection. The clear visor also allows you to set-up, inspect and move around the workplace without the need to remove the face protection or break the positive pressure respiratory seal.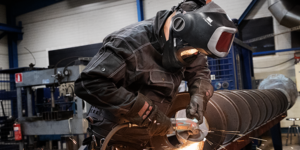 Designed for heavy-duty, high amperage welding and grinding, the flip-up G5-01 welding helmet connects to the 3M™ Adflo™ Powered Air Respirator to provide class TH3 respiratory protection.
Protection against radiation, sparks and spatter with the new, high-coverage helmet design and six different coverage configurations using helmet accessories.
A new, optional helmet-mounted task light provides hours of powerful lighting and runs off the Adflo battery pack, enabling welders to enter and work in poorly lit spaces.
No need to compromise on comfort! New helmet adjusts to get you closer to your weld, while you personalise your airflow patterns.
3M™ Speedglas™ Heavy-Duty Welding Helmet G5-01  is a welding helmet that not only provides the right level of protection, but also increases the comfort of users in heavy-duty environments
3M Connected Safety
The G5-01 ADFs are Bluetooth enabled: with the 3M Connected Equipment app, users get access to additional functionalities, statistics and documentation.
Opt-in by securely pairing your smartphone to your G5-01 welding filter using the 3M Connected Equipment App
Program up to ten memory modes (settings for dark shades, sensitivity, delay etc) with your phone
Easily record your welding helmet maintenance log to the App
Instantly know statistics, including: when your ADF was first activated; hours on; hours in the dark state; hours in the light state; and the number of on/off cycles
Have instant access to User Manuals and Parts List