Trumpf S160 Shear
Product details
With the Trumpf S160 Shear, you are perfectly equipped for processing sheet metal in the range of up to 1.6 mm mild steel. The professional machine is also an excellent choice for work with stainless steel. Thanks to the short design and compact shearing head, the S160 is the smallest and most manoeuvrable machine in its power class.
Features
Unbeatably small

Handy and unbeatably small machine with dimensions of 240 mm x 133 mm.

Tight curves

You can cut even the smallest radii starting from 15 mm with the S160, which offers excellent performance on curves.

Lightweight at 1.6 kg

The low machine weight means that you can work accurately and easily with the S160.

Extremely quick

Quick work progress with cutting speeds of 8 metres – 12 metres per minute.

Long service life

Low operating costs as a result of the 4-way cutter rotation.
Suggested Applications
Cutting and trimming of straight sheets. For radial and interior cut-outs as well as notching.
For cutting C-L-U profiles.
Cutting sheet metal parts for ventilation ducts.
For unfolding and cutting tubes.
To see Technical Data Sheet, click on image below.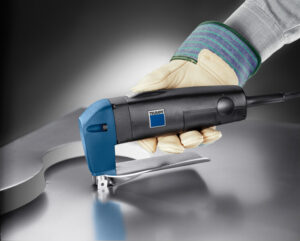 To see a video on Shears, click here. 
To see other Speciality & Cutting tools Jeaton offers, click here