Trumpf TKF 1500 Beveller
Product details
The Trumpf TKF 1500 Beveller is equipped with a powerful 2600 W motor. Integrated hand protection on the motor ensures a high degree of user-friendliness and provides you with safety during operation. The soft grip ensures user-friendly operation with low vibrations. This means you can always expect consistent, oxide-free results. Regardless of whether you are processing straight sheets, T-beams or tubes. The surface roughness remains low.
There are five cutting tools to choose from. This enables you to achieve perfect results across a wide range of applications. The material being processed is the determining factor when it comes to choosing the right cutting tool. The cutting tools can be interchanged without the need for additional tools, and you can regrind these many times over. This results in a long service life and reduces your operating costs.
Features
Equipped with a powerful and robust 2600 Watt motor for high performance.
Integrated hand protection on the motor provides you with a high degree of safety when working.
It is quick and easy to adjust the optimal settings for the chamfer height and sheet thickness.
You can use the carrier for various angles between 20° and 55°.
Suggested Applications
For straight edges and radius edges – welding seam preparation on outer and inner contours. With interior cut-out diameters from 130 mm. Also for T-beams and double T-beams.
Welding seam preparation on tubes with an inside diameter from 30 mm.
To see a TKF 1500 application guide, click on image below.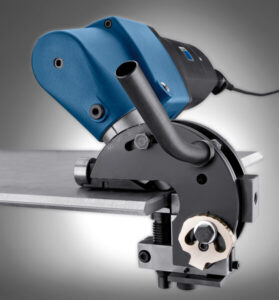 To see a video on Bevellers, click here. 
To see other Bevellers Jeaton offers, click here